Marine Electronics Installations, Electrical Systems & Design, Free Estimates
Welcome!
We service the Seattle area, and we pride ourselves on providing customers with the best-quality products and personal service. Our range of services includes marine electronics, marine electrical sales and service as well as consultation service. We provide free estimates for any projects you are considering and will help you navigate though all the product choices out there.
We have NMEA (National Marine Electronics) certified installers and ABYC (American Boat & Yacht Council) certified technicians that will be working on your boat. We pride ourselves with quality work and taking the time to do it right the first time.
Services
Electronics installations including auto pilots.
Electrical systems installation & design.
Inverter systems and high output alternator upgrades.
Webasto heating systems, both forced air and hot water boiler systems .
Satellite TV & entertainment systems.
Sales, We offer very competitive pricing on marine electronics and electrical components. Give us a call!
Other Services
Capitan for hire, charter, deliveries.
50 ton masters inland, OUPV near coastal.
Commercial assistances towing & Aux sailing endorsements.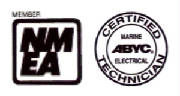 NMEA & ABYC Certified
We are a mobile service and have been helping customers from Olympia to Anacortes. Please contact us for your boating needs.
We look forward to doing business with you.
Capt. Kirk Peterson
We accept the following credit cards:

Rose Point Navigation, Coastal Explorer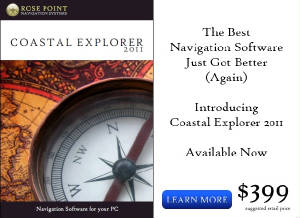 Now $369.00
We use Coastal Explorer on our charter boats and are a Rose Point dealer. Please contact us with any questions.